Our Uniform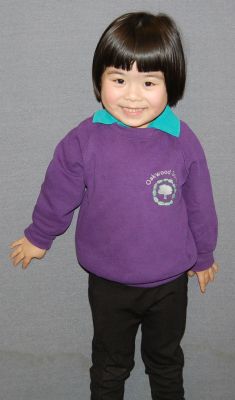 SCHOOL UNIFORM
The school encourages the wearing of uniform for practical purposes and for the development of a sense of unity and bonding within the School.
Our school uniform is available to buy online from http://www.ourschooluniform.com/ or by contacting
Reach EPS Ltd. Moira Road Lisburn Northern Ireland BT28 2RE
Telephone 028 9262 1115
The uniform consists of;
Black Sweatpants or Trackpants
Green or Purple Polo Shirts [or a combination of both]
Green or Purple Sweatshirts [or a combination of both]
Black School Coat
A woolly hat or baseball cap with the logo may also be purchased if desired!
All items of school uniform bear the school logo.
PE KIT
Children are encouraged to have plimsolls, shorts and tee shirts to change into for their weekly period of physical education. PE kit is kept in school in individual PE bags.
Parents are encouraged to label each item of a child's uniform, PE kit and schoolbag.
Oakwood School & Assessment Centre, Harberton Park Belfast Northern Ireland BT9 6TX | Phone: 028 9060 5116